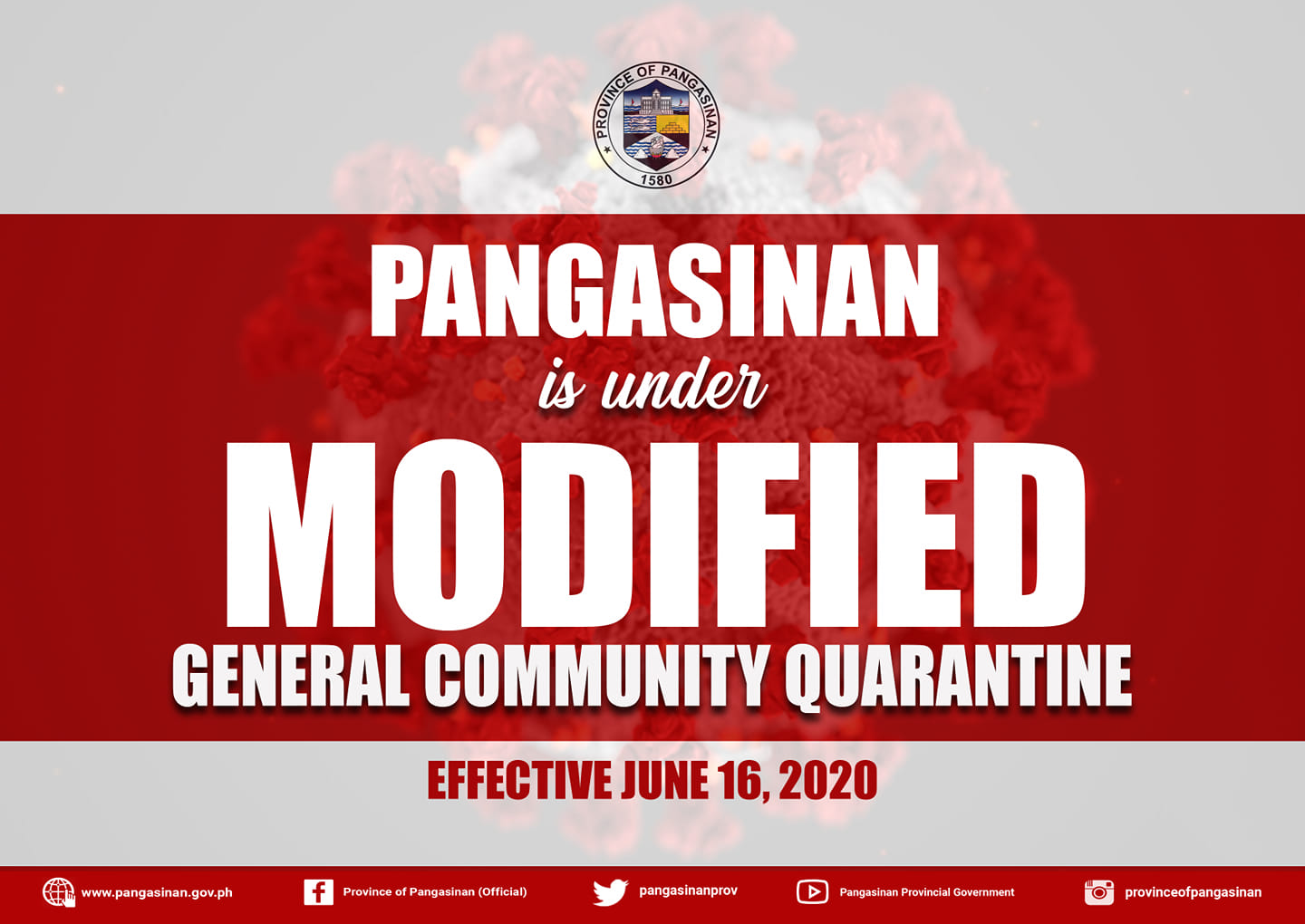 Executive Order No. 0033-2020
IMPLEMENTING GUIDELINES ON THE
MODIFIED GENERAL COMMUNITY QUARANTINE (MGCQ)
IN THE PROVINCE OF PANGASINAN
WHEREAS, the State is mandated to protect and promote the right to health of the people under Article 2, Section 15 of the 1987 Philippine Constitution, and LGUs are empowered to exercise necessary, appropriate and incidental powers for its efficient governance in the promotion of general welfare, as provided by Section 16 of Republic Act No. 7160, otherwise known as Local Government Code of 1991;
WHEREAS, due to the nationwide spread of the 2019 Corona Virus Disease (Covid-19), President Rodrigo Roa Duterte declared the Philippines under State of Calamity and placed the island of Luzon in an Enhanced Community Quarantine (ECQ) on March 16, 2020 pursuant to Proclamation No. 929, s. 2020;
WHEREAS, Republic Act No. 11469 or the Bayanihan to Heal as One Act was enacted empowering the President, among others, to ensure that LGUs act within the letter and spirit of all rules, regulations, and directives issued by the National Government;
WHEREAS, by virtue of Executive Order No. 112, s. 2020, President Duterte ordered the extension of the ECQ up to May 15, 2020 in selected places in the Philippines, including the Province of Pangasinan and thereafter, pursuant to IATF-EID Resolution No. 35-A, Series of 2020, the Province of Pangasinan has been placed under General Community Quarantine (GCQ) starting May 16, 2020;
WHEREAS, pursuant to IATF Resolution on the matter, the Province of Pangasinan is placed in a Modified General Community Quarantine (MGCQ) from June 16, 2020;
WHEREAS, the IATF-EID issued the Omnibus Guidelines On the Implementation of Community Quarantine in the Philippines, amended as of June 3, 2020, providing guidelines for the implementation of MGCQ;
WHEREAS, there must be a continuous effort to address and contain the spread of Covid-19 for the welfare of the residents of Pangasinan so that responses and measures done will not be put to naught;
NOW, THEREFORE, I, AMADO I. ESPINO III, Governor of the Province of Pangasinan, Philippines, by virtue of the powers vested in me, do hereby implement the following measures:
SECTION 1. ADOPTION OF THE MODIFIED GENERAL COMMUNITY QUARANTINE.
A. Modified general community quarantine refers to the transition phase between GCQ and New Normal, when quarantine measures are comparatively more relaxed and become less necessary in terms of the limiting of movement and transportation, the regulation of operating industries, and the presence of uniformed personnel to enforce community quarantine protocols.
B. The movement of all persons in Pangasinan under MGCQ shall be limited to accessing essential goods and services, for work in the offices or industries permitted to operate, and for other activities allowed in this Order.
C. Persons below twenty-one (21) years old or those who are sixty (60) years old and above, and those with immunodeficiency, comorbidity, or other health risks, and pregnant women shall continue to be required to remain in their residences at all times except when permitted under this Order.
D. Quarantine passes shall no longer be required for persons leaving their residences, without prejudice to the power of component LGUs to require quarantine passes based on specific risk assessments.
E. Minimum public health standards shall be observed at all times. Minimum public health standards refer to the guidelines set by the Department of Health in Admin. Order No. 2020-015 which prescribe public health measures that do not involve pharmaceutical interventions in order to mitigate the transmission and duration of infectiousness of Covid-19. These include but are not limited to wearing facemasks and personal protective equipment, frequent hand washing, and practicing social distancing.
SECTION 2. CURFEW FOR NON-WORKERS. The province-wide curfew from 8:00 PM to 5:00 AM shall continue to be observed.
SECTION 3. INDUSTRIES ALLOWED TO OPERATE. All industries (Categories I, II, and III under DTI Memorandum Circular No. 20-33) are allowed to operate at one hundred percent (100%) capacity, except the following industries which shall operate according to the corresponding capacity and subject to the conditions stated herein:
A. Work in all public and private offices may be allowed to resume physical reporting to work at full operating capacity. Alternative work arrangements shall be provided for persons who are sixty (60) years old and above, those with immunodeficiency, comorbidity, or other health risks, and pregnant women.
B. Work in government offices may be at full operational capacity, or under such alternative work arrangements as agencies may deem appropriate in accordance with the relevant rules and regulations issued by the Civil Service Commission.
C. Medical, dental, rehabilitation and optometry clinics, non-aesthetic dermatological clinics, EENT, shall be allowed at full capacity, provided that dental procedures shall be limited to emergency cases only, and also provided that home service therapy for PWDs shall be allowed;
D. Postal, courier and delivery services for articles of products other than essential goods, including clothing, accessories, hardware, house wares, school and office supplies, as well as pet food and other veterinary products;
E. Hotels and accommodations establishments may accommodate date bookings of guests at fifty percent (50%) operational capacity subject to the succeeding sections;
F. Barbershops, salons and other personal care service establishments, to operate at fifty percent (50%) venue capacity, to progress up to one hundred percent (100%) capacity after subsequent determination of authorized competent authorities;
G. Dine-in service in food retail establishments, such as supermarkets, grocery stores, and food preparation establishments, are allowed to operate at one hundred percent (100%) capacity, but at a maximum of fifty percent (50%) seating capacity;
H. Category IV industries under DTI MC 20-33, at a maximum of 50% operational capacity:
1. Gyms/Fitness studios and Sports Facilities, for indoor and outdoor non-contact sports and exercises;
2. Internet and computer shops, for work or educational purposes only, subject to strict health protocols;
3. Other education and educational support establishments such as but not limited to testing, tutorial and review centers, as well as language, driving, dance/acting/voice schools;
4. Entertainment industries such as but not limited to cinemas and theaters, karaoke bars, etc;
5. Kid amusement industries such as but not limited to toy stores, playgrounds, playrooms and rides;
6. Libraries, archives, museums and other cultural centers, art galleries, botanical and zoological gardens;
7. Tourist destinations such as but not limited to water parks, beaches, and resorts except those used as quarantine facility;
8. Other personal care services, such as but not limited to massage parlors, sauna, facial care, waxing, etc; and
9. Pet grooming services.
SECTION 4: COVID-19 TESTING IS ENCOURAGED BUT NOT REQUIRED TO RETURN TO WORK.
A. For the private sector, the testing of all returning employees is encouraged but shall not be required as a condition precedent for their operation. Employers or industries considered to be high risk are encouraged to ensure the safety and fitness of their employees and their clientele by conducting covid test, but in no case shall the testing of returning workers be construed as a condition precedent for their return.
B. In all cases, minimum public health standards shall be strictly observed. However, the private sector is encouraged to adopt stricter health standards concerning their operations. Compliance of private sector establishments with the Joint DTI-DOLE Return-to-Work Guidelines, DOH Return-to-Work Guidelines, and guidelines issued by the aforementioned appropriate sector-relevant national government agency, including their future amendments, shall be considered sufficient compliance with minimum public health standards.
SECTION 5. RESUMPTION OF CLASSES IN SCHOOLS. Face-t0-face or in-person classes may be conducted subject to the guidelines set by the Commission on Higher Education for Higher Educational Institutions, and the Department of Education for K-12 Basic Education. However, all school activities involving mass gathering of students shall remain prohibited.
SECTION 6. EXTENSION OF MARKET OPERATION HOURS. Supermarkets, public and private wet markets, grocery stores, agri-fishery supply stores, veterinary supply stores, pharmacies, drug stores, and other retail establishments engaged in the business of selling essential goods are allowed to extend their store operations to a maximum of twelve (12) hours. Provided, that reasonable schemes are adopted by the component LGUs to ensure compliance with social distancing measures such as daily schedules per sector, barangay, or sitio/purok.
SECTION 7. ACCOMMODATION ESTABLISHMENTS.
A. Hotels and accommodation establishments may operate at fifty percent (50%) operational capacity only. Ancillary establishments therein, such as restaurants, cafés, and gyms, shall likewise be allowed to operate at fifty percent (50%) operational capacity.
B. Only those accommodation establishments that secured a Department of Tourism Certificate of Authority to Operate shall be allowed to resume operations. To secure the said Certificate, the owner of the establishment must submit to the DOT Regional Office I via its designated e-mail address, the following:
1. Letter of Intent to Operate; and
2. If not DOT-Accredited, a duly accomplished Application for DOT Accreditation with complete supporting documents.
C. Accommodation establishments must report via e-mail to the DOT Regional Office I the following information, subject to Republic Act No. 10173 otherwise known as the Data Privacy Act:
1. Number of staff comprising the workforce;
2. Number, nationality, classification, and length of stay of guests;
3. The companies or business enterprises whose employees are booked;
4. For those establishments that accept and deliver food orders:
i. Commencement date of take-out and delivery services;
ii. Procedure for acceptance, preparation, and delivery of food-orders;
iii. Platform used for delivery of food orders, if applicable;
iv. Safety protocols in the kitchen and interaction with customers;
v. Number, positions, and assignment of employees comprising the manpower dedicated to food preparation operations;
5. Such other information as may be required by the DOT.
SECTION 8. CONSTRUCTION INDUSTRY. Private and public construction projects shall be allowed subject to strict compliance with the construction safety guidelines issued by the DPWH for the implementation of infrastructure projects during the COVID-19 pandemic. The pertinent portion of the construction work guidelines prescribed in Section 9 of Executive Order No. 0024-2020-A are reiterated:
A. Public projects shall be monitored by the DPWH. Private projects shall be monitored by LGUs and DOLE insofar as employee standards are concerned.
B. Prior to deployment:
1. Only 21 to 59 years old without pre-existing health conditions are allowed to work;
2. Workers shall be tested before starting (to be funded by the contractors);
3. Workers shall be housed in barracks for project duration, with segregated facilities-initial transport via private shuttle (not public transport);
4. Quarantine passes shall be issued for onsite employees.
C. During deployment, the following must be observed:
1. Safe distancing (>1m, incl. in barracks);
2. Daily disinfection;
3. Errands outside the construction site minimized;
4. Deliveries and disposal handled by separate team;
5. PPEs for all employees;
6. Safety Officer to ensure compliance.
SECTION 9. LIMITED MASS GATHERINGS ALLOWED. Mass gatherings such as, but not limited to religious gatherings, movie screenings, concerts, sporting events and other entertainment activities, community assemblies, and non-essential work gatherings shall be allowed at maximum of fifty percent (50%) of seating/venue capacity.
SECTION 10. NON-CONTACT FITNESS ACTIVITIES ALLOWED. Indoor and outdoor non-contact sports and other forms of exercise such as but not limited to walking, jogging, running, biking, golf, swimming, tennis, badminton, equestrian, and skateboarding are allowed.
SECTION 11. TRANSPORTATION. The guidelines on transportation prescribed in Section 5 of Executive Order No. 0024-2020-A shall remain effect. Said guidelines for land transportation are summarily reproduced hereunder:
A. All motorists shall observe the following passenger capacities per vehicle, with all passenger seated one seat apart if possible:
i. Public utility buses (PUBs) – up to fifty percent (50%) seating capacity (excluding driver and conductor); no standing passengers allowed;
ii. Public utility jeepneys (PUJs) – up to fifty percent (50%) seating capacity (excluding driver and conductor); no standing passengers allowed;
iii. UV Express – should not exceed two (2) passengers per row, except the drivers row, where only one passenger may sit;
iv. Taxi, shuttle service – only two (2) passengers at a time;
v. Tricycles – only one (1) passenger at a time; no backriding allowed;
vi. Motorcycles – no backriding allowed;
vii. Private cars – only one (1) person at the passenger seat, while not more than two (2) passengers at the front-facing seats;
B. All motorists must reduce contact, transmission, and spread of the virus through the mandatory use of face masks and gloves for drivers. Thorough disinfecting practices of vehicles, terminals, and even among passengers are also required.
C. Operators are required to adopt means or markings that will guide passengers as to which seats are available during the trips (such as non-permeable/acetate seat barrier and the like). Operators are also required to place non-permeable/acetate barriers between drivers and passengers if possible, as in tricycles, PUJs, and UV Express.
D. Private cars and motorcycles will be allowed to operate for the purpose of essential travels only. This however is subject to the various coding schemes being implemented by component LGUs in their respective jurisdictions.
E. The use of bicycles and similar devices are also highly encouraged, and component LGUs are encouraged to identify bike-lanes, or bike-only roads.
F. Subject to applicable rules implemented by the LTO and/or LTFRB, component cities and municipalities are highly encouraged to regulate and/or put a limit on the fare of public utilities, particularly of tricycles and pedicabs, through the enactment of appropriate ordinances. Fare matrix and all hotline numbers must be put on display within public vehicles for the information of the passengers.
SECTION 12. INTERZONAL MOVEMENT.
A. The movement of all types of cargoes by land, air, or sea within and across Pangasinan shall remain strictly unhampered, provided that only a maximum of five (5) personnel may operate cargo and delivery vehicles. Component LGUs are hereby enjoined not to issue orders contrary to or inconsistent with the said directives, such as, but not limited to, requiring asymptomatic drivers and cargo crew to undergo mandatory 14-day home quarantine. Provided, further that if necessary, allow putting up of additional safe and humane seats or space in the vehicles. Provided, finally that the PNP retains its authority to conduct inspection procedures in checkpoints.
B. The movement of the following persons from places placed in any form of community quarantine into the Province of Pangasinan shall be permitted:
1. Health and emergency frontline services personnel;
2. Government officials and government frontline personnel;
3. Duly authorized humanitarian assistance actors (HAAs);
4. Persons traveling for medical or humanitarian reasons;
5. Persons going to the airport for travel abroad;
6. Returning or repatriated OFWs and other Returning Overseas Filipinos (ROFs) en route to their places of residence;
7. Other persons transported through the efforts of the national government with the concurrence of the Province of Pangasinan and its component LGUs; and
8. Anyone crossing zones for work;
9. Uniformed personnel, government officials and employees for official business with corresponding travel authority.
C. Deployment for overseas travel of the following persons are allowed subject to existing travel restrictions in destination countries and accompaniment of not more than one (1) person who shall return to his/her point of origin:
1. OFWs;
2. Exchange students;
3. Stranded foreign nationals;
4. Those leaving for medical and humanitarian reasons.
D. OFWs shall be allowed to be deployed abroad upon the execution of a Declaration signifying their knowledge and understanding of the risks involved as advised by the Philippine government.
E. Interzonal movement of persons from areas under MGCQ into Pangasinan, for any purpose other than leisure, shall be permitted, subject to safety protocols that may be required by the PNP and the receiving component LGU.
F. Interzonal movement of persons for any purpose from areas with no community quarantine into Pangasinan shall be permitted, subject to succeeding regulations of Pangasinan and component LGUs regarding tourist site travel.
SECTION 13. GUIDELINES ON THE MANAGEMENT OF LSIs AND ROFs. For Locally Stranded Individuals (LSIs) and Returning Overseas Filipinos (ROFs), the following guidelines must be observed:
A. LGUs may provide transfer service to LSIs at ports, airports, and transport terminals within their areas of jurisdiction to transport them to their places of residence. Inter-LGU coordination is enjoined to manage the transfer of LSIs, including the movement of people needing passage from LGU to another.
B. No LSI or ROF shall be allowed to travel or shall be received by LGUs without the following required documents:
1. For LSIs:
a. A Medical Clearance Certification issued by the respective City/Municipal Health Office on the following conditions:
i. That the LSI is neither a contact, suspect, or probable or confirmed Covid-19 case; and
ii. That the LSI completed a 14-day quarantine based on the quarantine standards set by the DOH; or
iii. That the LSI confirmed as a Covid-19 case was tested negative through the RT-PCR twice.
b. Travel Authority issued by the JTF-CV Shield.
2. For ROFs:
a. Negative RT-PCR result and Quarantine Certification issued by DOH-Bureau of Quarantine.
b. Travel Authority issued by the JTF-CV Shield.
3. A Certificate of Acceptance by the Receiving LGU is not a requirement on the management of LSIs/ROFs. Only the above Medical Clearance Certification and Travel Authority shall be required.
C. Guidelines for LSI and ROF transit within Pangasinan
1. For receiving LSIs/ROFs:
a. LGUs of origin shall coordinate with the Provincial Government of Pangasinan for the entry of LSIs/ROFs into the territory of Pangasinan.
b. All receiving LGUs shall not deny the entry of LSIs with complete requirements, provided that prior coordination was made through the National or Regional Task Forces and other concerned agencies.
c. ROFs who have been issued a DOH or LGU certificate of completion of fourteen (14)-day facility-based quarantine, those who may be required to undergo a mandatory fourteen (14)-day home quarantine, or those who are issued with travel authority upon testing negative for Covid-19 whichever is earlier, shall be granted unhampered transit across zones en route to their final destination in the Philippines. For this purpose, LGUs are enjoined to allow maritime vessels or aircraft transporting the aforementioned ROFs to dock or land at their ports of destination. No other requirement shall be imposed by LGUs in this regard.
d. Upon arrival, LSIs shall be ushered to a temporary holding area designated for LSIs only. The Local Health Office shall assess the LSIs for any fever and other respiratory symptoms.
i. If an LSI presents any of Covid-19 symptoms, he/she shall be immediately isolated and shall be subjected to protocols and procedures for suspected Covid-19 patients; and
ii. If without any symptoms, the LSI shall be transported to her/his place of residence by the receiving LGU. The LSI shall undergo 14-day home quarantine.
e. The receiving LGUs may further subject the LSIs/ROFs to its local health protocols and procedures, such as 14-day quarantine and rapid anti-body testing for Covid-19 disease, that are consistent with IATF policies.
f. The Punong Barangay, through the Barangay Health Response Teams (BHERTS) are directed to conduct regular monitoring of all arriving LSIS/ROFs within its jurisdiction.
2. For deploying LSIs
a. An LSI shall notify the barangay that he/she is stranded. The Punong Barangay shall record and submit the list of LSIs within its jurisdiction to the concerned City/Municipal DILG-OFW Desk Officers.
b. LCEs of concerned component City/Municipality shall facilitate the issuance of the required Medical Clearance Certification and Notice of availability of Travel prior to the LSI's departure.
c. LCEs of concerned component City/Municipality shall immediately endorse the list of LSIs to their Provincial Task Force for Covid-19 and the Provincial Government of Pangasinan.
d. The Provincial Government may provide necessary assistance to component LGUs in transporting LSIs.
SECTION 14. ADOPTION OF MEASURES TO EXPEDITE GOVERNMENT TRANSACTIONS. From the effectivity of this Order until July 15, 2020, the Province of Pangasinan hereby adopts the following fast-track measures suggested by the Anti-Red Tape Authority in its Advisory 1 dated March 25, 2020 and component LGUs are encouraged to adopt the same measures.
A. Submissions to the Provincial Government of applications, reports, supporting documents may be done online, if possible, provided that the concerned department or body has allowed the same. Provided, further, that such transactions shall be subjected to post-audits.
B. The Provincial Government may receive unnotarized copies of private documents except if notarization is specifically required by law. It should be noted that once the said document is stored in public records, it becomes converted into a public document. Submission of falsified documents is punishable by the Revised Penal Code and special laws.
C. In accepting applications, renewals or requests, authorized signatories of the Provincial Government may utilize electronic signatures or signatures done by designated alternates.
D. An integrated approach to public service delivery, characterized by seamless government transactions, integrated policy design and implementation across several agencies, inter-operability of government processes, horizontal coordination, and strengthened linkages among government units.
SECTION 15. EXTENSION OF PAYMENT PERIOD FOR TAXES, FEES AND CHARGES COLLECTED BY LGUs. In accordance to Pangasinan Provincial Resolution No. 373-2020, as well as Department of Finance Circular No. 002-2020:
A. The deadlines for the payment of all local taxes, fees and charges duly authorized and imposed by the Provincial Government of Pangasinan, without penalties or surcharges shall be extended until June 25, 2020.
B. The counting of the period within which to pay local taxes, fees and charges shall likewise be suspended during the said period.
C. In the event that an LGU had already extended the deadlines prior to the effectivity of RA No. 11469, such deadlines shall be modified with the above-said period.
D. Any further extension shall be authorized in accordance with the provisions of the Local Government Code of 1991.
E. No interest, surcharge or any form of penalty shall be applied on any local tax, fee, or charge accruing on or due and demandable during the period of extension.
F. Local tax delinquencies prior to the effectivity of RA No. 11469 shall remain due and demandable upon expiration of the extended deadline.
G. Component LGUs are encouraged to adopt the same regulations with respect to their corresponding local taxes, fees, or charges.
SECTION 16. AMORTIZATION OF UNPAID ENERGY FACILITY DUES.
A. In accordance with the Department of Energy Advisory dated May 7, 2020, all unpaid bills falling due from the original and extended ECQ in Pangasinan shall be equally amortized in the four (4) months following the end of the ECQ on May 15, 2020 and in such manner as may be allowed by the Energy Regulatory Commission.
B. The above-stated grace period shall be applicable to the following dues:
1. Payments due to the National Power Corporation, the National Transmission Corporation, the National Grid Corporation of the Philippines, and the Power Sector Assets and Liabilities Management Corporation (PSALM) including power bills and rate adjustments (i.e. ACRM, deferred GRAM and ICERA);
2. Payments due to fuel/resource suppliers of generating facilities including coal, oil, steam supply and natural gas;
3. Payments due to Independent Power Producers;
4. Payments of Universal Charges (UC) as administered by PSALM, provided that the deadline of PSALM to disburse the UC to beneficiaries shall likewise be given grace period by the same number of days given therein; and
5. Payments to Independent Electricity Market Operator of the Philippines to total trading amounts and other charges.
C. Payment of the Feed-in Tariff Allowance shall be in accordance with ERC directives.
D. Retail Electricity Suppliers are encouraged to render to their Contestable Customers similar scheme stated herein, particularly whose nature of business do not fall under essential goods and services category and adversely affected by the implementation of the ECQ.
SECTION 17. GRACE PERIOD FOR LOANS AND RENTS.
A. As a matter of declared national policy and pursuant to paragraphs (aa) and (bb), Section 4 of the Republic Act No. 11469, all banks, quasi-banks, financing companies, lending companies, and other financial institutions, public and private, including the Government Service Insurance System, Social Security System and Pag-ibig Fund, are directed to implement a minimum of a thirty (30)-day grace period from due date or until such time that the GCQ in Pangasinan is lifted, whichever is later, for the payment of all loans, including but not limited to salary, personal, housing, and motor vehicle loans, as well as credit card payments, falling due within the period of GCQ, and without incurring interests, penalties, fees, or other charges. Persons with multiple loans shall likewise be given a minimum thirty (30)-day grace period from due date or until such time that the GCQ in Pangasinan is lifted, whichever is later, for every loan.
B. The above 30-day grace period shall also be applicable to residential and commercial rents falling due within the duration of the GCQ in Pangasinan.
C. The cumulative amount of unpaid aforementioned residential and commercial rents shall be equally amortized in six (6) months following the end of the 30-day minimum grace period, without interest, fees and other charges.
D. Lessors are encouraged to totally/partially waive commercial rent or reduce amount of rent during the quarantine period. However, lessors are not obligated to refund any rent paid by lessees.
E. The foregoing rules on grace periods shall have retroactive effect starting March 17, 2020 when the Province of Pangasinan was first placed in community quarantine.
SECTION 18. REITERATION OF MANDATORY WEARING OF FACE MASK IN PUBLIC. Every person within the territorial jurisdiction of Pangasinan is required to wear face masks at all times, especially when going outside of their residences, at the workplace, when entering government buildings and offices, while leaving and going back home, when availing home essentials, and while in public places. Violators thereof penalized under Provincial Ordinance No. 235-2020 and other pertinent laws.
SECTION 19. REITERATION OF THE NO DISCRIMINATION POLICY.
A. Acts of discrimination inflicted upon healthcare workers, repatriated OFWs and non-OFWs, COVID-19 cases, whether confirmed, recovered or undergoing treatment, as well as suspected and probable cases, and persons under monitoring is strongly condemned.
B. Acts in furtherance of discrimination, such as but not limited to, coercion, libel, slander, physical injuries and the dishonor of contractual obligations such as contracts of least or employment shall be subject to criminal, civil and/or administrative liability.
C. Local government units are hereby enjoined to issue the necessary executive orders and/or enact ordinances prohibiting and penalizing these discriminatory acts.
SECTION 20. MANDATORY COVID-19 TESTING IN JAILS.
A. All persons arrested or held in custody shall be required to undergo appropriate test for Covid-19, preferably the Polymerase Chain Reaction Real Time (PCR-RT) prior to commitment to any jail or detention facility, including but not limited to the Pangasinan Provincial Jail and jail/detention facilities of the Bureau of Jail Management and Penology (BJMP).
Neither shall any person be released from any jail/detention facility to the community without obtaining a negative test result for Covid-19.
B. DUTY OF THE ARRESTING OFFICER/S: No jail/detention facility shall accept any person for commitment unless said person has been tested negative for Covid-19. The arresting officer shall ensure that the appropriate test is immediately conducted prior to the commitment of the subject person, by coordinating with the Rural Health Unit (RHU) or any Department of Health (DOH) accredited facility.
C. LOCK UP CELLS AND/OR HOLDING AREAS IN MUNICIPALITIES: Prior to receipt of the Covid-19 test result, the person/s arrested or held in custody shall remain in the lock up cells and/or holding areas duly designated by LGUs.
D. If the person tests positive, he/she shall be subjected to existing Covid-19 treatment protocols. The subject person shall not be committed in the jail/detention facility unless the person fully recovers and that he/she obtains two (2) negative Covid-19 test results thereafter. In no instance shall the person be allowed to be released to the community and/or stay on home quarantine.
The computation of prison service time for PDLs about to be committed who were isolated and treated for Covid-19 shall be based on pertinent laws over the matter.
SECTION 21. SEPARABILITY CLAUSE. Should any provision of this Order be declared by a court of competent authority as invalid or unconstitutional, the remaining provisions not otherwise adversely affected thereby shall remain in full force and effect.
SECTION 22. EFFECTIVITY CLAUSE. This Order shall take effect immediately until or unless subsequently amended/revoked/revised. All orders, rules, regulations, promulgations, circulars, and/or issuances by the IATF and/or concerned national government offices/agencies are hereby adopted. All previous issuances of the undersigned and/or by component LGUs, which are not in contravention of the IATF Resolutions and/or its member agencies shall be made applicable in a suppletory manner.
Done this 16th day of June 2020 in Lingayen, Pangasinan.
AMADO I. ESPINO III